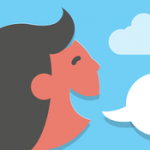 Chronicling your vivid imagination into an exciting digital story has never been so easy. Imagine creating your own verbal story without the use of written words. With the Imagistory – Creative Storytelling App for Kids app, that is exactly what you do. This fun family app allows the emergent reader, teacher, and/or parent to foster their creative imagination into countless exciting stories. Imagistory is recommended for users ages 4 and up to build social skills, public speaking skills, and as a reward in the classroom or at home. It is available for free at the iTunes store and compatible with the iPad.
The app comes equipped with picture-based stories, which allow the creator to record verbal accounts with each image until the very end when it creates a unique story from start to finish. Each story can be recreated with newly recorded words for each image, which can allow for one-on-one, classroom groups, or the entire family to join in on the fun. The stories can be saved, stored, and shared through email and social networks. It also allows parents and teachers to store favorites to share with other colleagues, family or friends.
Imagistory is perfect for the one-on-one learner. The teacher can use the app to build speech, language and vocabulary skills in a non-traditional way. The app can also be used as a station/center in a classroom's Reader's Workshop in which students can either rotate or exchange stories. The classroom teacher can use the fun app as an extension activity into the Writers Workshop in which rotating groups of students must apply the images to paper and rewrite the ending. This is great way to introduce and teach the elements of a story, plot progression, and various genres. This app is perfect for elementary reading classrooms, and self-contained Skills for Living classroom environments. The uses are endless and everyone gets to tell their OWN story so this app will never get old.
In addition to being a great tool in the classroom, this app is also great for parents and their children to work on at home. Kids ages 4 and up could begin to expand their vocabulary and reading skills, by using this app to reinforce new information. BridgingApps highly recommends Imagistory.