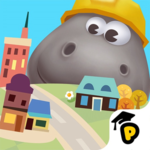 BridgingApps just published the following BridgingApps Reviewed App on the site:
Hoopa City is a fun app for early learners to build roads, houses and cities. The child can drop tiles onto a map to build a town filled with shops, roads, schools or many other buildings. Tiles with different building materials are touched to create building and roads or can be used together to make even different buildings and structures. People and cars will appear and interact with the buildings and each other. The child can make a new town each time he opens the app or continue to build on the city he started.
This app is highly recommended for elementary children as a teaching tool and as reinforcement for concepts taught in therapy. Hoopa City may benefit users diagnosed with autism spectrum disorder, developmentally delayed, speech and/or language disorder.
Click on the link below for full review:
https://search.bridgingapps.org/apps/f5f5cacf-db94-4c48-ba1c-c6c006a9155d