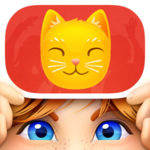 BridgingApps just published the following BridgingApps Reviewed App on the site:
Heads Up! Kids is a kids' version of Heads Up!; the fun, electronic version of charades played using your phone or tablet. The game is played as follows: The player that has to guess the word for the picture on the card holds the phone on their forehead with the screen facing out. The players describing the picture stand in front of them and either act out or describe what is on the card. The player holding the phone or tablet tips it backwards for incorrect answers and forward for correct answers. The object of the game is to guess as many cards correctly as possible in one minute. Each "card" on the screen shows a picture for what you have to describe as a small timer in the corner of the card counts down one minute, with a warning chime during the last 10 seconds to alert players that time is running out.
This app could serve as a great activity for classrooms and small group speech or social skills therapy sessions. It could be a useful tool to encourage peer interaction for those with limited social skills, such as children with autism. The fact that it uses pictures rather than words also takes away the anxiety over possibly not being able to read the hint for those with reading disabilities such as dyslexia, allowing them to participate with their typical peers.
Click on the link below for full review:
https://search.bridgingapps.org/apps/0e430462-d411-4c42-ac0f-43a24f253e4f