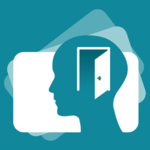 BridgingApps just published the following BridgingApps Reviewed App on the site:
H.E.L.P.- Life Coaching is an app designed for teachers, counselors, and psychologists to help users recognize and understand concepts such as forgiveness, gratitude, mindfulness and more. The app has 10 categories from "Life Lessons Coaching" to "Unwind Your Mind" and "Anxiety". Within each category users get coaching cards. Each card provokes a topic related to the theme such as explaining what "Mindfulness" is. Next, the user flips the card. Each card has 3-4 questions that relate to the topic. The app uses a built in microphone so students do not need to write their responses.
The app is beneficial for kids who have emotional struggles and need to recognize how they are feeling and how to cope with situations that occur in their daily lives. Psychologists may benefit using the app in either individual or group sessions to engage conversation and thought provoking ideas.
Click on the link below for full review:
https://insignio.bridgingapps.org/apps/d80ecb38-3195-4f9e-b74b-59b9dce99720