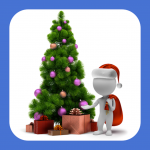 BridgingApps just published the following BridgingApps Reviewed App on the site:
i Get… Christmas Social Skills Stories will assist the user in understanding the sequence of events that occur around the Christmas season. You can edit or delete any of the pages already in the book as well as create new pages. You can also edit the words on the page as well as add an auditory component by recording yourself speaking the text. Once the book is created the way you want it, then you can save it and it is ready to read. If you are using the book as a type of picture schedule, there is also a check mark icon that can be touched that will then put a checkmark on the picture as a way of saying "done/completed" and on to the next event.
Typically developing young children participating in Christmas for the first time and individuals with developmental delays, such as PDD-NOS, autism and Down syndrome will benefit from this interactive application. Parents, teachers, SLP's and other support professionals will appreciate the user-friendly design.
Click on the link below for full review:
https://search.bridgingapps.org/apps/c10460ee-ff9d-b18e-e1ba-23c852b02333