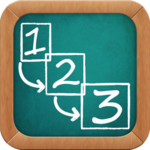 BridgingApps just published the following BridgingApps Reviewed App on the site:
First Then Visual Schedule is designed for caregivers to provide positive behavior support. For individuals with communication needs, developmental delays, autism or those who benefit from a structured environment, visual schedules serve to increase independence and lower anxiety during transitions through different activities.
This is a wonderful app to add to your library to assist a child with a visual to do list. We have used this app with individual children in a one-on-one therapy environment in addition to using it in a group environment in a special needs preschool, by hooking up an iPad to a larger TV monitor to display the sequence of events and activities for the day. It is fantastic for parents to use within their home for daily activities such as getting ready in the morning, steps for going to the bathroom, or other daily routines. It is also great to use for novel activities to give the child a visual explanation and expectation of planned events.
Click on the link below for full review:
https://search.bridgingapps.org/apps/b9bf7557-38dc-f745-6297-46d59846354c