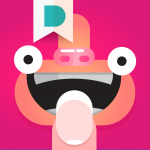 BridgingApps just published the following BridgingApps Reviewed App on the site:
Duckie Deck Hungry Clipper is a play app created for early learners to teach fingernail hygiene in an interactive and fun way. This app is for children to become familiar with the nail-clipping process and uses simple imagery for easy understanding. The app is easy to use, colorful, child-friendly and the music and sound effects enjoyable.
Hungry Clipper is a developmentally appropriate app for preschoolers and elementary students of all learning abilities. This is also a great app for occupational therapists to use with students working on fine motor skills such as finger isolation, drag and release and purposeful touch. When working individually with speech students, therapists can use this app to have students identify items and encourage discussion. Because there is no audio instruction, app facilitators may need to narrate the process, outlining the steps to those who initially need assistance.
Click on the link below for full review:
https://search.bridgingapps.org/apps/fd3f66f1-7978-e6d1-8103-ebff83a26c01