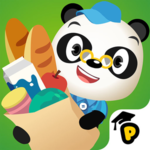 BridgingApps just published the following BridgingApps Reviewed App on the site:
Dr. Panda Supermarket is an educational and entertaining app for early learners to virtually go to a grocery store. The user can find food and check it off a grocery list, pick up the shopping carts from the parking lot, organize boxes in the store and put trash and recycling in the correct receptacles. They can learn basics about numbers, money and spatial concepts.
There are no written or verbal instructions or conversations within the app. The characters make sounds and happy noises and music plays in the background. All sounds can be turned off in the settings. This app is highly recommended for children to use as reinforcement for concepts taught in therapy, to practice conversational skills needed in the grocery store or as a reward at the close of their session.
Click on the link below for full review:
https://search.bridgingapps.org/apps/1a19be1c-6142-4806-817e-aa83e274222e