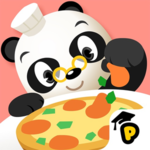 BridgingApps just published the following BridgingApps Reviewed App on the site:
Dr. Panda Restaurant is a fun and engaging app where users pretend they work in a restaurant. They are able to make foods ordered by customers. They get to chop, cook, mix and bake as well as decorate the room and clean up the tables. And, they also make a wide variety of foods including apple pie, pizza, soup and milkshakes. After they make the food, the animal opens his mouth and the user feeds him the food.
This app is useful in teaching spatial concepts, following directions, vocabulary and conversational skills. The user can give the customers words to express their needs and gratitude for the food. Or, the therapist can provide verbal instructions for the user to follow.
Click on the link below for full review:
https://search.bridgingapps.org/apps/dfcad8c6-031e-49b0-9797-6eae1db6b841