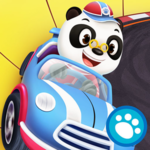 BridgingApps just published the following BridgingApps Reviewed App on the site:
Dr. Panda Racers is a fun and entertaining app for early learners. The app gives a child the opportunity to pick a car and work on it to prepare for race. Then the child gets to race his car against another driver. The race has obstacles and tricks that the child participates in. In the end, only one car will win the race.
The app is different each time the child plays. The cars can be built, painted and worked on. The races won will unlock a variety of new car parts, paint colors and a trophy. The child can make their own racetracks and add tricks and jumps. After each race, the car needs to be washed, aired up and refueled before it can race again.
The app can be used to teach following directions, basic concepts, vocabulary, conversational skills and social skills. The child can follow verbal instructions given by the adult and can learn the vocabulary associated with a car and race. Since no words are spoken, children can create the words or conversation the characters within the app may have with each other. They can practice what to say when they win or lose in a game or race.
Click on the link below for full review:
https://search.bridgingapps.org/apps/dc1f54e2-11ed-4f5b-a762-965f6f7524e7