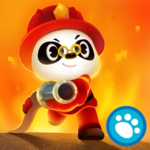 BridgingApps just published the following BridgingApps Reviewed App on the site:
Dr. Panda Firefighters is a fun and engaging app for early learners that gives them the opportunity to help animated animals that are firemen. When the alarm sounds, the user can dress the animals in the fireman's gear and drive the truck to the fire. Once at the fire, one animal enters the building and asks for tools to help him fight the fire and rescue the animals trapped inside. Another fireman rides on the ladder and needs assistance raising the ladder up to each floor and spraying water on the fire.
This app is useful in teaching spatial concepts, following directions, vocabulary and conversational skills. The child can give the characters words to express their needs and gratitude for the help given. The child can decide what is needed in the situation and give the firemen instructions. Or the therapist can provide the verbal instructions for the child and he can follow the directions.
Click on the link below for full review:
https://search.bridgingapps.org/apps/e7e67568-f659-4266-b1fe-5576d217dfd7