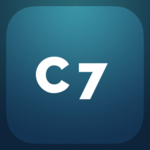 BridgingApps just published the following BridgingApps Reviewed App on the site:
Chordbot is an app that can be used by teachers, therapists or users interested in creating music/songwriting, using chords and adding instrumentation to create a full band sounds. There is a Chordbot lite that is free, however, we recommend the full version because you have access to all tracks and save/export features. Users can arrange musical experiments from over 100 different instruments tracks, chord types, comping styles, MIDI/ export playback and automatic song generators.
Chordbot is an app that can be used in a variety of settings and populations by teachers, therapists or users at home. This app can give the opportunity for creative and self-expression, work on sequencing, working within a group setting, turn taking, communicating emotions, PTSD, guided imagery or impulse control to name just a few possible goals. This can be used with different ages but if user is under 7 they will need some guidance.
Click on the link below for full review:
https://search.bridgingapps.org/apps/86171eea-1512-4f3f-bbaa-d55a31279e8f