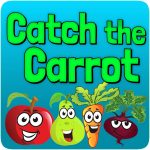 BridgingApps just published the following BridgingApps Reviewed App on the site:
Catch the Carrot is an educational game where the player must answer questions about particular foods. Questions are aimed to teach children information about nutrition and healthy foods.
Multiple-choice trivia questions are read aloud for children to follow. All questions have four choices such as, "This favorite breakfast food are shaped as circles and enjoyed with maple syrup." The four choices are meatloaf, legume, honey or pancakes. The student must choose the right answer. After they choose the answer they have to catch the item in a shopping cart at the bottom of the screen. Students must be able to see and move the shopping cart and recognize when their cart is too full. If the cart is too full the student taps it twice to empty the cart. The goal is to fill the cart and acquire more points. Be careful – move too fast or stack too high, and the items will tumble out.
Click on the link below for full review:
https://search.bridgingapps.org/apps/47730356-1926-ea0f-c071-4e18eafd5c4b