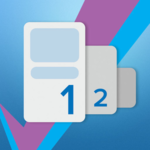 BridgingApps just published the following BridgingApps Reviewed App on the site:
CanPlan makes task analysis simple, fun, and engaging. This app allows parents, therapists, and teachers to easily and visually break down and schedule tasks to promote independence for most age and grade levels including adults and seniors. Virtually any activity can be broken into a sequence of easy-to-follow steps, illustrated by photos and reinforced with optional text and audio. Scheduling and reminder features ensure each task gets done on time.
This app is of great benefit to children, adults, and seniors with special needs. In particular, the app is an excellent choice for teaching and scheduling tasks to those with autism, head injury, ADHD, and learning disability.
Click on the link below for full review:
https://search.bridgingapps.org/apps/5ad9727a-c06d-b8df-b245-c6689e0d5c37