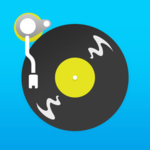 BridgingApps just published the following BridgingApps Reviewed App on the site:
Baby Scratch provides users the opportunity to play around with DJ/scratch loops. This can be used by teachers, therapists or at home for fun. The app has a few loops and tracks the user can use with their own voices recorded into the turntable or looper. Users can take turns building and creating mixes or sequence them individually.
Baby Scratch app can be used in a variety of settings and populations. The app can be used to address fine/gross motor skills even with limited upper extremity use. Other goals that can be addressed include some of the following: sequencing, impulse control, turn taking, targeted speech sounds and attention to task.
Click on the link below for full review:
https://search.bridgingapps.org/apps/623fa7d0-b902-4b15-841e-103d3e1100fb