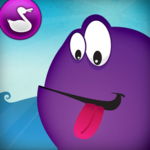 BridgingApps just published the following BridgingApps Reviewed App on the site:
Baa Baa Black Sheep is a music app for children based on two children's songs. In the app, sheep ride in a boat to deliver their wool. It includes underwater scenes, people using the wool and a game for the child to collect puzzle pieces presented in shadow while moving along in the boat. The sheep and other objects react to the child's touch by making sounds or moving. The pages can be moved forward backward, up and down by the arrow button on each page.
Baa Baa Black Sheep is useful in teaching following directions, identification of pictures, labeling, early reading skills, counting and colors. It can be used independently or with adult assistance. Children often request this app as a reward or incentive.
Click on the link below for full review:
https://search.bridgingapps.org/apps/b4166c24-a49b-4ee0-a841-506540a35b99