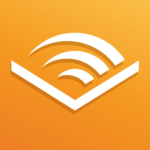 BridgingApps just published the following BridgingApps Reviewed App on the site:
A must have app for users of all ages and abilities, Audible audio books & podcasts is the world's largest selection of audiobooks, audio shows, and original series. With the app, users can listen to audiobooks anytime, anywhere at home or on the go. Even if you switch devices, you will never lose your place.
Watch the video below to see our full review of Audible and how to use the app.
Click on the link below for full review:
https://search.bridgingapps.org/apps/e87bb0b4-466d-1416-d3e0-9962bd6e8860