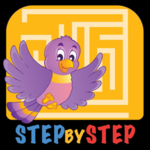 BridgingApps just published the following BridgingApps Reviewed App on the site:
Animal Maze – Find a route through the maze is an app for users to navigate their way through 20 different animal-themed mazes that include different animals such as fish, birds, farm animals, and other wildlife. Once the user chooses a maze to run, they slide their way to find a route to the end of the maze. If the user stops sliding, their animal stays wherever they take their finger off the screen, so they can continue from that point at any time. Users can choose any maze at any time.
This app is recommended for users who are working on visual/spatial and planning skills and users diagnosed with autism spectrum disorder, developmentally delayed, intellectual disorder and learning disability.
Click on the link below for full review:
https://search.bridgingapps.org/apps/1163377a-6871-4e4e-992d-f656564abf5f