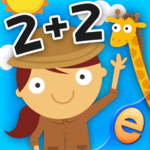 BridgingApps just published the following BridgingApps Reviewed App on the site:
Animal Math Games for Kids in Pre-K, Kindergarten and 1st Grade Learning Numbers, Counting, Addition and Subtraction Free gives you three, free games that target counting to 10, sequences & patterns, and adding to 5. To unlock the rest of the games, you will need to pay $6.99. Travel the world over from Bessie's Farm to the plains of Africa to the deepest reaches of outer space as you join math-explorer Emma through more than 100 fun math games on a quest to help her animal friends find a way home.
Playable by kids of all ages with lots of positive encouragement, professional narration and catchy music. Cute characters include cows, chickens, lions, giraffes, kittens, puppies, robots and monsters. Designed by parents and teachers, this app adheres to Common Core Standards for kindergarten math.
Click on the link below for full review:
https://search.bridgingapps.org/apps/4989c9b1-805d-4540-9bef-f166691b6041