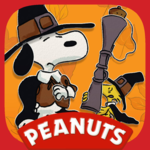 BridgingApps just published the following BridgingApps Featured App on the site:
Happy Thanksgiving from BridgingApps! Wishing you the happiness of good friends, the joy of a happy family, and the wonder of the holiday season.
A Charlie Brown Thanksgiving is a fun ebook app to enjoy with loved ones. With hundreds of touchable animations, illustrations and graphics, this ebook contains the original dialogue, sound effects and music from the 1973 classic that everyone loves. Follow Charlie Brown and the Peanut Gang as they discover the meaning of Thanksgiving. A Charlie Brown Thanksgiving is a delightfully themed app to be enjoyed by users of all ages and abilities.
Click on the link below for full review:
https://search.bridgingapps.org/apps/12784439-1290-5343-0811-dea6fac27657