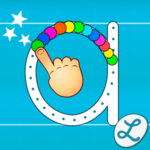 BridgingApps just published the following BridgingApps Reviewed App on the site:
Writing Wizard for Kids is designed to help children learn how to trace letters, numbers and words through a fun system designed to maintain motivation. Typically developing learners and those who struggle with fine motor, handwriting and dysgraphia will benefit greatly from this app.
Learners can trace using 50+ animated stickers and sound effects. Once tracing is complete, they can interact with them on four games that animate letters. They can trace any word – like their name – and record their voice for each word. Kids enjoy collecting stars in 5-Stars play mode.
Click on the link below for full review:
https://search.bridgingapps.org/apps/12af08b2-37c9-48a4-b4fb-74369e55a4e0