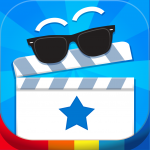 A great summer activity for users of all ages and abilities, Toontastic is a FREE, standards-based, creative storytelling app that enables users to draw, animate, and share their own cartoons virtually with friends and family. With over 14 million cartoons created in 200+ countries, parents and teachers rave about the app. And kids love it! Making cartoons with Toontastic is as easy as putting on a puppet show – simply press the record button, move your characters onscreen, and tell your story. Toontastic records your animation and voice as a cartoon video to share.
We appreciate the educational aspect. Toontastic makes learning the parts of a story not only fun but also interactive and creative. It provides the user clear simple directions with reinforcement. The app first introduces the 5 parts of a story: Setting, Conflict, Challenge, Climax and Resolution. You are guided verbally through each section. You can use the sets and characters provided or you can make your own. In between the story parts, you can add musical transitions based upon the theme of your story. This is an opportunity for users to practice creative writing using organizational tools to help them write.
Cool Features:
– Hundreds of Characters and Backgrounds: Ignite your family's imaginations with 50 playsets chock full of pirates, princesses, and far away galaxies.
– Special FX: Create your own Hollywood blockbusters complete with explosions, tornadoes, rainstorms… and falling anvils 🙂
– Video Export: Save videos to the Camera Roll to post online or edit in iMovie.
– Toy Camera: Take and import photo backgrounds to turn your playroom into a movie studio and add your own photo faces to characters.
– ProtoToys: Draw your own animated characters complete with rocket boosters, helicopter blades, flying capes, and more animated effects.
Click on the link below for full review:
https://insignio.bridgingapps.org/apps/64757fcb-ebb5-8d62-fdd7-fff1b0583ca5