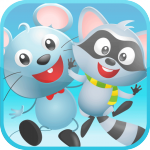 Speech with Milo: Sequencing is an excellent, fun app for children who are working on the use of verbs, extending their current sentence/phrase length, learning how to sequence a story and re-tell it and/or practicing first/next/last.
Enjoy 35 dynamic sequencing exercises using animation to keep your child engaged. This app was created by a licensed Speech-Language Pathologist to help children develop sequencing and storytelling skills. The adorable mouse Milo brings a friend along to entertain and help your child.
We mainly use this app to help children with a language delay extend their sentences. Once the child has put the pictures in the right order the child can watch a video. The video is highly rewarding for most children. In fact this is one of the most frequently requested apps by the children we work with.
Once the pictures have been put in the correct order the app speaks a single sentence for the 3 pictures, e.g. "Milo is painting a picture." This is a good example for children to copy, but we always encourage the children to tell all three parts of the story, then praise the child for telling a "better story than the iPad!"
[iframe id="https://www.youtube.com/embed/iiZ-IBPC6gU"]