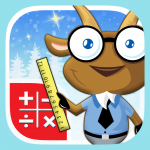 BridgingApps just published the following BridgingApps Featured App on the site:
Measure This : Holiday is a fun educational math app aligned to K – 2 Curriculum Math Standards. Filled with colorful holiday images, this workbook style app explores comparison and measurement. It even includes a virtual interactive ruler to drag around the screen for measuring objects.
We trialed this app with Kindergarten and 2nd Grade general education students. They really liked the holiday-themed images. And, the simple interface makes it great as an independent math activity. Students found this app much more fun than traditional pencil and paper workbook pages.
The developer, Clever Goats Media, did an excellent job of making an educational holiday app for elementary students. Measure This : Holiday is a great math resource for classrooms and homeschool curriculums.
Click on the link below for full review:
https://search.bridgingapps.org/apps/c989e0c1-89fb-914e-ecfa-577b322cc52d