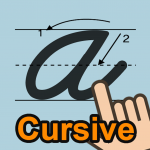 What better time to learn and/or practice the lost art of cursive handwriting than summer? The Cursive Writing app is a simple app that is intuitive and gives users hints on learning cursive letters.
We have used this app with elementary, middle and high school students. Some used the app without prior writing lessons and others used it to improve their cursive, or were trying to perfect a letter in their name. A common handwriting goal is for students to be able to write their signature, as this is important for signing documents when young adults begin to transition from high school to the work field.
Within the settings, the choice is available to change the pen color and show or hide lines. Users are presented with each letter of the alphabet. They can choose capital or lower case letters. Having the lines helps students understand the letter size and will, hopefully, enable them to transfer the skill when using lined paper.
Click on the link below for full review:
https://insignio.bridgingapps.org/apps/c66385d9-83d9-e7cb-b20d-a33bf74c12ba