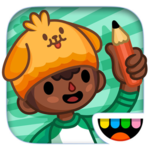 Day 18 of 30 Back To School Apps in 30 Days ✏️
Grab your backpack— it's time for Toca Life: School! Teach a class, pick a locker and have a food fight in the cafeteria! With five locations and 34 characters, you can create your very own school adventures!
With five unique locations for telling stories about life at school, users can head out to the playground and coach a basketball team, conduct a science experiment in the classroom and jam with a band in the youth club. All characters, and anything they are holding, can easily be moved between locations.
Users love in-app activities like wearing funny costumes and throwing a party. They can mix colorful liquids in the chemistry lab, climb a tree and play hide-and-seek. The youth club is always open for fun activities like pool, ping pong or playing instruments.
There are treasures hidden everywhere in Toca Life: School, and with the free in-app content channel it is easy to find out about them. Located in the top right corner of the start screen, Life Weekly updates every Thursday and gives users fun insights into the whole world of Toca Life.
Another neat feature is the in-app recording feature. Exclusive to the Toca Life series, the recording feature will help users share the stories they create. By recording sound and screen they will be able to save up to two minutes of video to their camera roll.
Easy to navigate and well designed with beautiful graphics, Toca Life: School keeps kids engaged and entertained for hours. We have used this app with typically developing children as well as students who have speech and language delays and autism between the ages of 3 and 12. It is a favorite of many of the children we work with.
Click on the link below for full review:
https://search.bridgingapps.org/apps/49c35a15-c2de-4bde-a188-dddaee49ee84
#BackToSchool #BackToSchoolApps #AppsForStudents