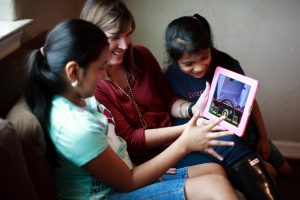 NEWS PROVIDED BY
Easter Seals Greater Houston
Sep 29, 2016, 12:26 ET
HOUSTON, Sept. 29, 2016 /PRNewswire-USNewswire/ — The BridgingApps Program of Easter Seals Greater Houston, a 501(c)(3) non-profit organization, is proud to announce it has been awarded a $300,000 grant from the Texas Department of State Health Services. This grant will enable BridgingApps to create an online tool to assist Texas families with children who have special health care needs access information to prepare and successfully help them transition to adulthood.
Transition planning requires addressing many areas of need for a child with chronic health conditions, yet there is currently no simple method that tackles areas as wide ranging as health care to age appropriate social activities, independent living or employment in any meaningful way. This process can be overwhelming for parents and often medical providers and educators do not address transition issues until young adulthood, resulting in missed opportunities to transition successfully.
"BridgingApps is uniquely positioned to create an innovative, easy to use and sustainable online tool that will empower families to plan early, obtain assistance with the right questions to ask, and access current information to allow their children to live as fully participating members of our community," says Easter Seals Houston's CEO Elise Hough.
A focal point of the tool is connection with BridgingApps' App Search Tool, a free online tool allowing users to find a variety of smartphone/tablet applications to assist with many areas of transition, such as education, managing health information, and independent living. BridgingApps will seek input from organizations/people from around Texas to create this resource. The Transition Tool will be available in 2019 on a variety of platforms and distributed widely in Texas with partners in the areas of healthcare, education, disability advocacy and housing.
About BridgingApps
BridgingApps.org, a program of Easter Seals Houston, provides the access, education, and resources needed to effectively use mobile, touch-based devices to help people with disabilities communicate, exceed educational goals, and reach their fullest potential.
Web: bridgingapps.org
About Easter Seals Greater Houston
Easter Seals Greater Houston Easter Seals Greater Houston, Inc. is a non-profit corporation established to provide comprehensive services to individuals of all ages with all types of disabilities and their family members. For more information, visit www.eastersealshouston.org
SOURCE Easter Seals Greater Houston
Related Links