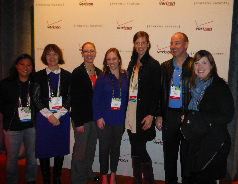 The new year is off to a great start! We are proud to announce that we were awarded $700,000 at the Verizon Powerful Answers Award Ceremony at the 2014 Consumer Electronics Show!
Back in June, we learned about the Verizon Powerful Answers Award, a competition looking for the latest innovations in healthcare, sustainability, and our category, education, with $10 million in prizes. We submitted an application shortly after and were thrilled to make it to the second round. Little did we know, that was just the beginning!
Our team worked hard in August streamlining our message and putting to paper our accomplishments, hopes and dreams. Then in October we received word that we were one of 30 finalists out of 1300 applicants from all over the world! We were confident that we could demonstrate the merit and impact of our program that serves people with disabilities, but nervous at the prospect of going head to head with start-ups and for-profit companies.
We appreciated the coaching sessions, webinars, and expert support that Verizon offered during this process of creating our best possible presentation. After numerous run-throughs, the next step would see us travel to San Francisco to pitch our "big idea" to a panel of expert judges in the last round of the competition.
In November, we found out that BridgingApps was selected as a winner for its innovative approach to using mobile device technology such as the iPad or Android devices to help improve the educational, social and physical outcomes for students with disabilities.
The winners were selected by panels of judges with significant expertise in each of the three focus areas – healthcare, education and sustainability. The 15 money-winning ideas range from solutions to help manage donations in the aftermath of natural disasters, to a solution that allows healthcare providers to use smartphones to track and manage patient care, to a business simulation app designed to help students with financial literacy. Each idea leverages Verizon's broadband, cloud or wireless networks.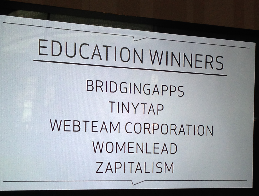 Verizon Powerful Answers Award Ceremony at CES 2014
During CES, Verizon hosted a reception for all of the Verizon Powerful Answers Award winners prior to the announcement. This was a wonderful opportunity to meet the other innovators and learn how they are providing powerful answers to some of the biggest issues we face today.
The award ceremony was especially exciting, hosted by Verizon Chairman and CEO, Lowell McAdam and Mo Rocca – check out the full replay!
http://new.livestream.com/verizongolive/PowerfulAnswersAwardWinners
We won $700,000! We are honored to be a Verizon Powerful Answers Award winner and are so grateful for Verizon's leadership in helping use their powerful technology tools to improve the lives of people with disabilities so that they can live as fully participating members of our community.
Verizon has also put together a documentary series, so you can take a look behind the scenes and learn more about the Powerful Answers!
Consumer Electronics Can Change the World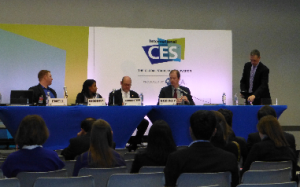 Of course we also had to check out the show while we were there! We have included some of our highlights from CES below.
We were able to attend a CEA Foundation panel, moderated by Steve Ewell, Executive Director of the CEA Foundation. Panelists included Adrienne Biddings from Google, John Godfrey of Samsung North America, and Bruce Borenstein from AfterShokz. Each panelist discussed how consumer electronics are impacting and improving the lives of people with disabilities. It was exciting to hear how each of their companies are keeping accessibility at the forefront as they develop and improve their own products and services. The panel was inspiring and John Godfrey said it best when he said "the consumer electronics industry is about serving everyone."
Exhibitors We Loved!
Sphero. This is a robotic ball controlled by an iOS or Android mobile device that is fun, accessible and allows for creative play alone or with friends. We have used Sphero in our Assistive Technology labs to engage children and adults with disabilities. It was fun to see creative obstacle courses and exciting new additions to the Sphero family!
Tobii Eye Gaze. It was very exciting to see that eye gaze technology is much more advanced than what we have seen in the past. We were able to calibrate the eye gaze device easily and quickly and were then able to play a game of Fruit Ninja with eye gaze only! This technology has great implications for the future of eye gaze for Augmentative and Alternative Communication (AAC)  as well as using eye gaze for accessible gaming.
AfterShokz. We met Bruce Bornstein, whose company makes stereo headphones that work using bone conduction technology, which conducts sound off of cheekbones and delivers it straight to the inner ear. The headphones are worn over the ear, so that users can safely wear them without tuning out the world. Because they are worn over the ear, people with hearing aids can wear them without removing their aids. We see many possibilities for people with visual impairments, hearing impairments and other special needs experiencing high quality sound safely and affordably.
Second Avenue Learning. We visited with Second Avenue Learning, who demonstrated their new chemistry card game and virtual world app. Students from third to twelfth grade can mix and match elements on the cards to build compounds in order to accomplish missions in the app. The coolest part was when you hold the tablet over the cards, you see a 3-D projection on the screen, as if it were coming from the cards! Such an innovative way to use technology as an approach to hands-on, social learning.
What's Next for BridgingApps?
BridgingApps was born out of a need to help people with disabilities and those who support them–families, teachers, therapists, and doctors–navigate the exciting world of mobile technology. With this award, we hope to serve more families in more places with more tools. It's that simple.
To achieve that goal, we will improve the functionality of our website to make it easier to navigate, increase content to include Common Core Curriculum, automate app recommendations and provide more online training for our users to access anywhere, anytime.
BridgingApps relies on the time, talent and dedication of many volunteers who share a common desire: to improve the lives of people with disabilities. We would love to have you help us achieve our goal by getting involved!