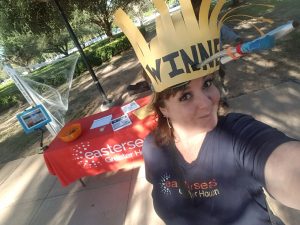 On October 25 Lone Star College-Tomball hosted its 13th Annual Disability Awareness Day, a day of exploration, education and celebration of those differences with students, employees and community members. BridgingApps' Outreach Coordinator Andi Fry was honored to represent Easter Seals Greater Houston and be a part of the free event that was open to the public.
For the first half of the program, high school students were given a tour of the campus and introduced to the many ways LSC-Tomball supports its students with disabilities. In addition, college and high school personnel and community members discovered how higher education is striving to help ensure the future success of individuals with special needs.
For the second half of the program, all attendees were treated to a fair featuring games, food and other fair events. Instructors and community members had an opportunity to meet vendors serving the special-needs community.
Visitors to Andi's interactive table featured a game in which a head pointer was used to select items on an iPad using an app called Prolqouo2Go, highlighting how technology can assist those with physical disabilities. For more information on assistive technology, please contact Andi Fry at the Killion Family Assistive Technology Lab located at 1600 Lake Front Circle, Suite 231, The Woodlands 77380 or call 281-705-9850.