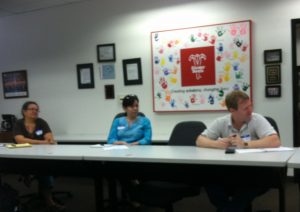 An important goal for some people with disabilities is to learn how to navigate in their environment, interact with others, and cope with the challenges that the world presents along the way. Â Working on these goals help them to learn, live, and work in their community. Â On January 29, BridgingApps Austin Local Meeting met to discuss apps that can support people who are working on life skills. Â We looked at a wide range of apps from learning how to use money to dressing appropriately for the weather.
To view a complete list of apps discussed click on the link. Â http://bridgingapps.org/list/?id=46858
Join us on March 26th, 2014 Â from 6-7pm for another fun and informative meeting! Â For more information or questions contact Julie Melton Smith @Â jsmith@eastersealshouston.org.