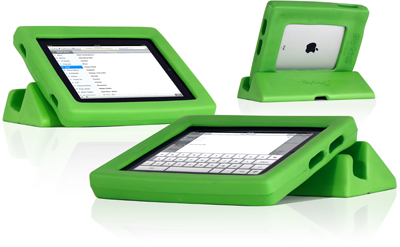 Big Grips Frame(TM)is the iPad case made for kids. It's big, squishy, easy to grab, comfortable to hold, and very grip-able. Also available is theBig Grips Stand(TM). It is a matching stand for working at a desk, lying on the couch, or kicking back and watching stuff.
This case is made of squishy, soft, easy to grab foam. That means fewer slips, drops, and tumbles–and plenty of cushion just in case.
No need to worry about the iPad slipping out ofBig Grips Frameeither.Big Grips Framesnugly hugs and cradles your iPad and won't let go until you say so.
Big Grips Frameis not only secure and very grip-able, it's also…
Non-toxic
Lead and latex-free
Phthalate and PVC free
Resistant to oils, chemicals, stains, molds and germs
Durable and lightweight
Easy to clean
Big Grip also offers a1-year limited warrantyonBig Grips FrameandBig Grips Stand. The warranty does not include any damage done to your iPad.
Big Grips Frame
9.47″ x 11.57″ x 1.5″ (240 mm x 294 mm x 38 mm)
7.125 oz. (.20 kg)
Easy access to all ports and controls
Unobstructed cameras (iPad 2 version), Wi-Fi antenna and ambient light sensor
Big Grips Stand
5.5″ x 12.7″ x 2.8″ (140 mm x 322 mm x 71 mm)
9.25 oz. (.26 kg)
Big, sturdy, and stable
Frame only – $34.95
Stand only – $24.95
Frame and Stand Set – $49.95
Currently these cases are out of stock. Typically they are for sale at Amazon