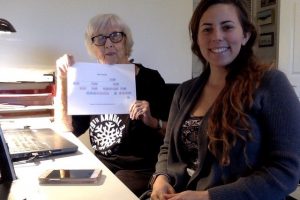 Ms. Audra Evert is an amazing artist, and her home is covered with her colorful abstract paintings. She suffered a stroke some years ago, and she needed help using a desktop windows computer and a flip phone for her technology needs. Her interests include internet searches, emails, saving and sharing photos, creating word documents, and excel spreadsheets. A nephew of hers recently asked for her knowledge about the family. She developed a goal to create a family tree.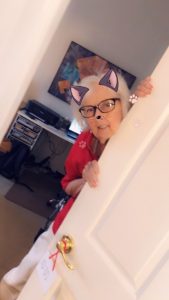 BridgingApps digital trainer, Jana Rodriguez helped Audra research a few options to create a family tree and offered the free website service FamilyEcho.com. Together Jana helped Ms. Evert created her family tree, as seen in her printed copy. A copy was also sent via PDF to her nephew. She hopes to expand the details with more research on other family members. At the beginning of this journey she dreaded the thought of how difficult this task would be. She was so pleased with the ease and design which she described as "perfect!"
Audra owns a flip phone and has been frustrated with not knowing how to take photos and then share them with others. Jana has been working on basic phone skills with Audra, who has been practicing manipulating photos on her phone. She is learning how to take photos, rotate and crop them, and send them to friends and family via email. She has been thrilled with her progress!