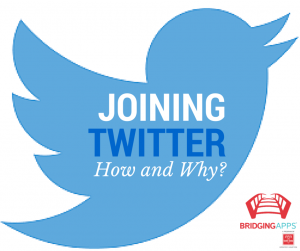 Are you interested in joining Twitter?  But not quite sure how it works and the purpose of it?  We hear you!  Several members of our BridgingApps team are just getting started too.  We have been enjoying the real time news and connections we have made, and want to help you do the same.  Here is a basic tutorial on how to get started using Twitter and how it can be helpful.
What is Twitter?
Twitter is an information network made up of 140-character messages called Tweets. It's an easy way to discover the latest news related to subjects you care about.
Why should I sign up?
It is easy to connect/network with other people who have similar interests.
Twitter contains information you choose and that you find valuable.
Discover news as it is happening real-time.
Confused by the Twitter lingo?
Check out the Twitter Glossary to learn the language.
To create an account on the web:
Go to http://twitter.com and find the sign up box, or go directly to https://twitter.com/signup.
Enter your full name, email address or phone number, and a password.
Click Sign up for Twitter.
In order to verify your phone number or email address, Twitter will send you an SMS text message or an email with a code. Enter the verification code in the box provided.
Once you've clicked Sign up for Twitter, you can select a username (ours is @BridgingApps)— type your own or choose one that is suggested. Twitter will tell you if the username you want is available.
Double-check your name, phone number, password, and username.
Click Create my account. You may be asked to complete a Captcha to let Twitter know that you're human.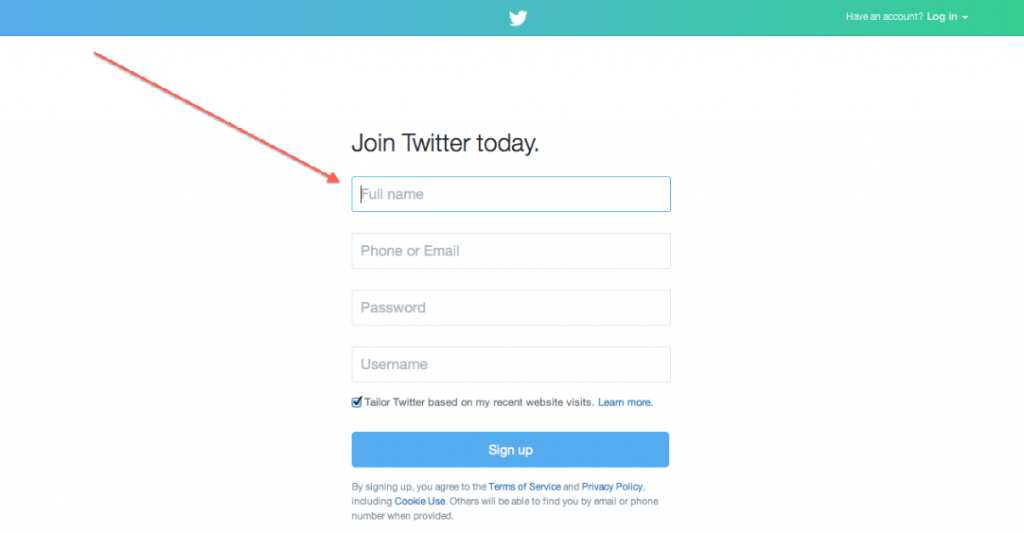 After you've Created your Account:
After signing up, follow a handful of accounts to create a customized stream of information on your home timeline. Following means you'll get that user's Tweets on your Twitter home timeline. You can unfollow anyone at any time. Find out how to follow news sources, friends, and more in the Finding people on Twitter article.
BridgingApps is following some great folks like @disabilityscoop, @_luisfperez, @BetsyFurler, @iPodsibilities, and @deTechtive1.