Read Time: 5 minutes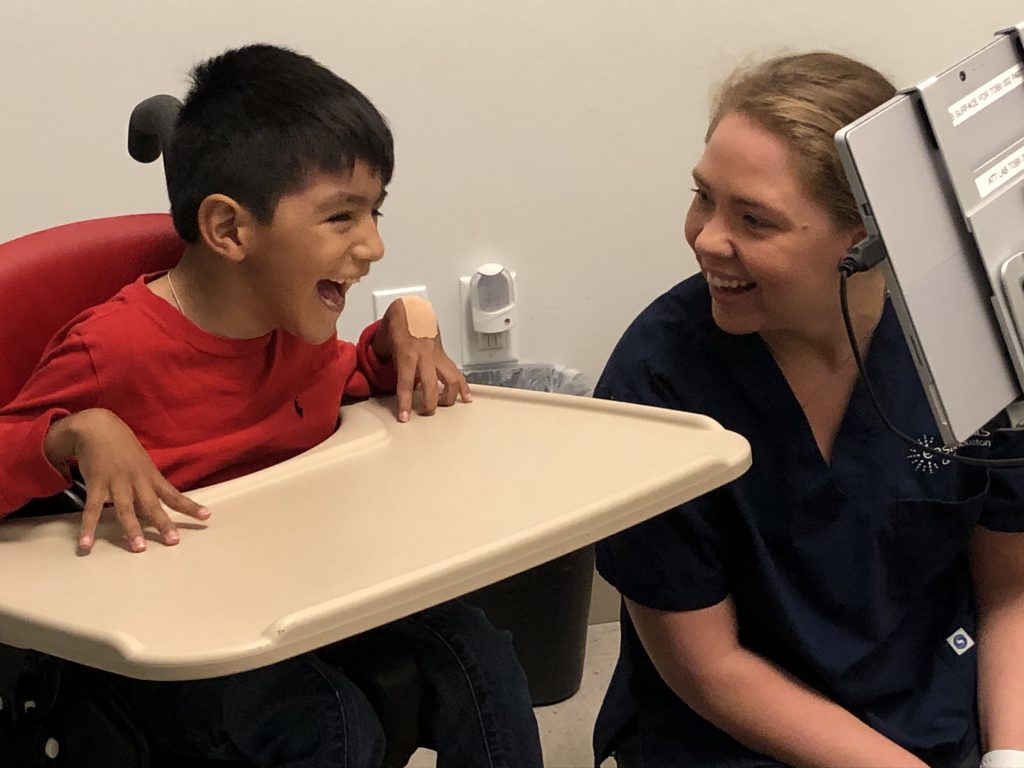 We are all adjusting to the new normal, learning how to maintain social distancing, and preparing to return to virtual learning. Understandably, that can feel a bit overwhelming. As a speech therapist, I have been providing therapy via Zoom with my pediatric clients since mid-March. The rush to adapt therapy materials and prepare parents and clients for this new approach to therapy has faded. We are in the long haul now and we are getting creative to keep our kids engaged during the therapy sessions.
When all of this started, we were not sure how long telehealth was going to last. I was hesitant to go out and buy a bunch of new equipment, so I adapted the technology and materials I already had. Below are some of the adaptations and activities I have been using over the past few months.
Use an iPad as a document camera: I have a few clients that love to play card games (Go Fish, Uno) so I needed to figure out a way to adapt our favorite games. I used the iPad as a doc cam so the kids could see the deck and their hands. Then, they would tell me what card to play for them. (Again, I am a speech therapist, so it works in my favor to have the kids tell me what to do.)
Take advantage of the whiteboard feature on Zoom: I usually scribble things like breathing diagrams, pacing boards, target words, anything to help my visual learners during our sessions. The kids love being able to draw with me on our shared screen. We have expanded to drawing comic books, tic-tac-toe boards, and A LOT of doodles. When my doodles are insufficient, because I am NOT artistically inclined, I use the Make a Scene or Felt Board apps to make stories, talk about locations, play pretend, etc.
Try annotating on a shared screen: Handouts and coloring pages are a staple in my speech room. Using the shared screen and annotate feature on Zoom, my kids and I can see and work together on the same page. With a few clicks, most of which the kids can do themselves, they are able to complete coloring pages, hidden pictures, spot the differences, printable books, and anything else I can find and share to meet our goals or for fun.
Substitute animated or video books: Sometimes my antics and silly voices aren't as engaging as watching the book come to life with animation. I still pause the video and ask comprehension questions or practice saying target words just like I do when I'm reading the book myself. Storyline Online has great content, and of course, there's YouTube.
Play with actual toys: So many of my kids LOVE to watch videos of kids or adults playing with toys online. Telehealth allows the unique opportunity to direct a video of their own. In addition to bossing me around, which they love, they get practice a variety of language skills. It's also a great activity to model play skills for parents, so they can play with their kids in a way that encourages development.
Finding the right motivators keeps activities and sessions running smoothly. Time play games on the iPad and some YouTube videos are usually a guaranteed success. Many of my kids like Bamba Ice Cream, Toca Boca Kitchen Monsters, Monkey Preschool Explorers, and others that I used as rewards during in-person sessions. I'm not able to give the kids control of the iPad, so as a speech therapist I am able to get some extra practice, when they tell me or describe to me what they want me to do on the iPad. But my secret weapon, the ultimate "do two more and then…" is my dog! I've been surprised by how excited my kids get when they see my dog, watch her sleep or play, or just tell her hello.
The most important factor, so that both you and the client feel successful, is to recognize their fatigue and follow their lead as best you can. As an adult and professional, I can't stare at the computer screen and complete the mental gymnastics required to provide therapy for more than an hour. My sessions are typically 30 minutes long with a 5 minute break for me to stand up, look away, anything. And my kids are no different. Some of my little ones are more interested in the toys or people in their actual environment, than my floating head in virtual therapy. Sometimes bigger kids are focused on what they're going to eat after, or what TikTok they were in the middle of, or maybe they're just not having a great day. Some of my kids aren't interested in me-on-a-screen at all, so my time is spent coaching parents and caregivers how to interact with and support their kids. For most kids, even in in-person therapy, we can't drill for 30-60 minutes straight without a break, reward, or side conversation. It's unrealistic to expect that virtually. It's hard as a therapist because sessions are shorter, we feel like we've got to cram in as much as we can into each session. It is so much easier and we all feel more successful, if we just take a quick break and regroup when the kids, parents, and therapist are able to focus on what that child needs most in that moment.
We hope that these tips and tricks inspire you and help the children in your life thrive even when using teletherapy. If you have tips and tricks that you have discovered using teletherapy, please share with us, we are all learning together!