April is Autism Awareness Month!
National Autism Awareness Month represents an excellent opportunity to promote autism awareness, autism acceptance and to draw attention to the tens of thousands facing an autism diagnosis each year.
In recent years, there have been more and more apps targeted at specific diagnoses. During our app trials and reviews we have found that many of these apps are, in fact, wonderful resources for people with specific disabilities. However, we have also found that when choosing apps for individuals with diagnoses like autism spectrum disorder it is essential to focus on skills—rather than age, diagnosis or developmental level.
Below we have listed 7 of our favorite apps for autism spectrum disorder. And, be sure to check out our newly updated full list of Apps for Autism.
[table width ="100%" style ="" responsive ="false"]
[table_body]
[table_row]
[row_column]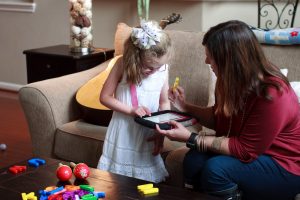 [/row_column]
[row_column]
1. Proloquo2Go – Symbol-based AAC
Proloquo2Go is a full featured augmentative communication application (AAC) that offers picture only, picture and text, and keyboard options for message formulation. The voices available are a more natural sounding male, female adult or child. The keyboard and picture/text grids can be used for novel sentence building. The images on the buttons are SymbolStix, although the user is able to use real pictures and some pictures are a more life-like cartoon drawing.
[/row_column]
[/table_row]
[table_row]
[row_column]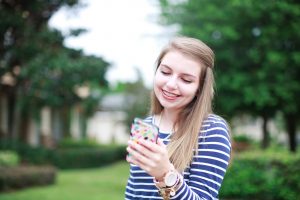 [/row_column]
[row_column]
2. Find My Family, Friends & iPhone – Life360 Locator
Great for children and teens with autism, Family Locator by Life360 is an intuitive tracker app to keep family, friends and caregivers connected. Life360 runs on your mobile device and allows you to view your family members on a map, communicate with them, and receive alerts when your loved ones leave and arrive at home, school or work.
[/row_column]
[/table_row]
[table_row]
[row_column]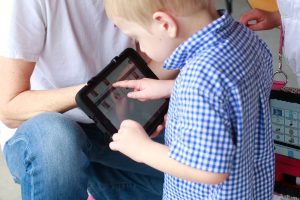 [/row_column]
[row_column]3. Children with Autism: A visual schedule
Children with Autism: A visual schedule is a wearable picture-based scheduler designed with children and adults with autism in mind. Using the iPad or iPhone app, a caregiver can make a visual schedule for the the wearer. There are included icons or icons/photos can be uploaded to the app to make custom icons. The schedule can then be sent to the wearer's Apple Watch and will alert them when he/she needs to change tasks or start a new task.[/row_column]
[/table_row]
[table_row]
[row_column]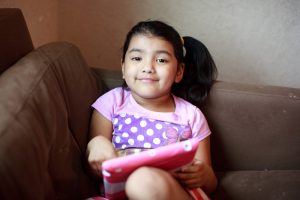 [/row_column]
[row_column]4. Birdhouse for Autism
Birdhouse for Autism is an excellent app that offers caregivers the ability to track behaviors, health and daily living tasks of children diagnosed with ASD. Parents raising children with ASD designed this easy to use web and iPhone/Android application. As data is entered, it becomes easy for the caregiver to isolate and compare as well as find patterns of behaviors. Identification of patterns then assists the caregivers to determine what is working in the child's daily schedule as well as what needs to be changed.[/row_column]
[/table_row]
[table_row]
[row_column]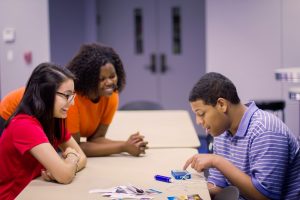 [/row_column]
[row_column]5. Choiceworks
Choiceworks is an app for helping children complete daily routines and tasks, understanding and controlling feelings and to improve their patience. Caregivers, teachers, and therapists use this app with students diagnosed with autism (verbal and nonverbal), ADD, and other learning disabilities to keep them on task and motivated. The Choiceworks app is high quality, user friendly and students trialed enjoyed using it.[/row_column]
[/table_row]
[table_row]
[row_column]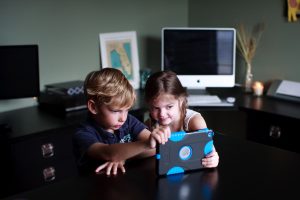 [/row_column]
[row_column]6. Avaz AAC
Avaz AAC is an augmentative and alternative communication app that empowers children and adults having speech-related disabilities with a voice of their own. A fully-featured speech app that also includes a training module for new AAC users and caregivers. With this version of Avaz AAC, you can try the app for 14 days with access to pictures and voices before deciding to purchase it. After that, you can choose to subscribe to a monthly, annual or lifetime plan – whichever suits your pocket the best 🙂
[/row_column]
[/table_row]
[table_row]
[row_column]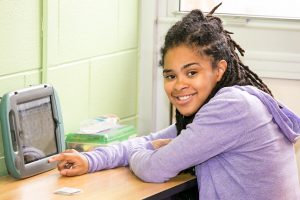 [/row_column]
[row_column]7. DayCape – Daily visual planning
DayCape is an app that allows therapists, teachers, parents, and even the child themselves to set up visual schedules. Benefiting grades pre-k through 5th, this app is an excellent way to help children with a variety of disabilities to manage their day. The app allows a user to set up activities for for the child using pre-set pictures, or by uploading personalized images. Once the activities are set up, notifications show up on the child's device to remind them of the activities they have been assigned.[/row_column]
[/table_row]
[/table_body]
[/table]
Updated April 15, 2020