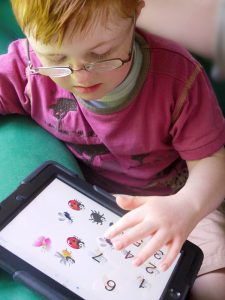 Our son William was born in 2005 with Down syndrome and some serious medical complications.  In 2011, we founded "Special iApps" to develop educational apps to help teach children like William and those with other learning disabilities.
We last wrote here about William in 2012 (http://bridgingapps.org/2012/03/williams-story/).  Three years later he continues to be happy, enthusiastic and interested in everything!  He has just joined Cub Scouts, and continues to swim every week.
William's sight vocabulary has grown enormously, although his spoken words are still limited.  He's included in a local mainstream school, and takes his iPad every day.  William enjoys reading books, and stories we create in our "Special Stories" app, and this has proved to be a brilliant tool for home-school communication.  He is mad about the CBeebies Alphablocks TV program and DVD videos, and loves their paper letter cards: he likes laying them out on the floor, picking each one up and saying the letter sound, and arranging them into words he knows. His favorite film is Disney's Frozen: he acts out scenes and sings along.  We always switch the subtitles on when watching DVDs or TV programs as we feel that this also helps with his sight reading.
Like most children with Down syndrome, William has challenges with numeracy, but is making great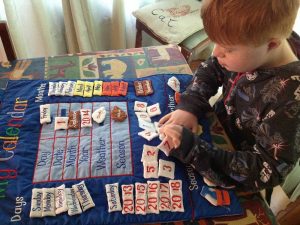 progress.  He enjoys using our "Special Numbers" app, can match the numbers "1, 2…" to the words "one, two…", and is learning to arrange jumbled up numbers into the correct order.  He has a large Velcro calendar and every morning before breakfast he changes the day, date and weather on it without any help from us now.  We fit learning activities like this into his daily routine.
We have always used signs with William (we initially learned Makaton, which is based on British Sign Language), and school uses Sign Supported English (also BSL based).   We recently wrote a new app "My 1st Signs", using the sign drawings from the "Let's Sign" BSL series, and when we gave this to William for the first time he surprised us by correctly identify nearly all of the 150 signs in it. We started signing when he was 6 months old, but it took quite a long time before he signed back to us, and we are really pleased we persisted as he now has a big signing vocabulary. When he has eye tests he signs what he sees to the optician.
Working memory is often limited in children who have Down Syndrome (especially for spoken information), but there is lots of evidence that it can be improved by exercising it.  One of the things we're using to help William with this is our "Match & Find" app. We've made both "Special Numbers" and"Match & Find" highly configurable in their settings, so they can be tailored to a learning level and adapted as skills are learned.
You may think that William uses his iPad all the time!  Actually, it's just one of the tools we and school use to help him (although a very powerful one).  We feel it's very important to explore every learning opportunity at home and out and about, as well as giving William time for free play and hands-on sensory activities.  He has a very full, varied and fun life, and brings joy to everyone he meets!
Written By: Â Colin Dean, William's Father