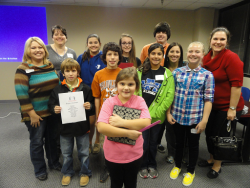 Visitors to the opening of the AT&T Assistive Technology lab in Houston were wowed by the sophisticated equipment available to the public made possible by the generous support of AT&T. In the lab, users will have an opportunity to explore adapted toys and switches, specialized software and computer equipment, communication devices, and mobile devices and apps. Easter Seals Greater Houston staff will be available to answer questions and appointments can be made to obtain more in-depth information or schedule an evaluation. Assistive Technology Practitioner Lena Nel  was on hand to demonstrate equipment.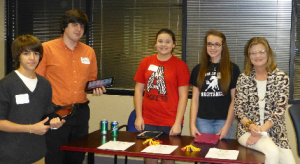 This open house event also featured local tweens and teens who played host to visitors by demonstrating apps they use in school and in everyday life. Students from a variety of middle and high schools representing 4 area school districts, including Alvin ISD and Houston ISD, created lists of apps for school and for fun and volunteered their time to share this information with other teens and adults.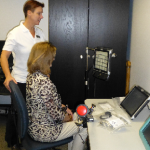 Some favorite apps of the evening were:
Battleship Craft
Math Ninja
GoalTracker
Words with Friends HD
Disney American Presidents
Map Puzzles for Kids
Animator
Magic Energy Free
Temple Run
STUDYBLUE
Stack the States
American Wordspeller
For a complete list, please click on the link below:
http://bridgingapps.org/list/?id=43778
Mission: The AT&T Assistive Technology Lab aims to combine emerging mobile technology, training, best practices and original research to enhance the lives of people with disabilities. By making equipment, training, and information available to parents, therapists, teachers, doctors and people with disabilities, the AT&T Assistive Technology Lab aspires to become established as a recognized center of excellence in mobile device technology for people with disabilities.