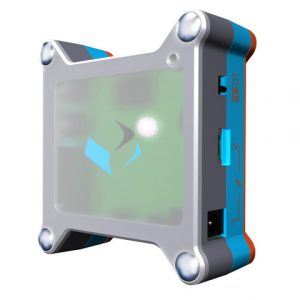 Tecla Shield DOS is a wireless (bluetooth) device that gives the user control of their smartphone, tablet or computer (PC & Laptop) using an external switch or the driving controls of a powered wheelchair. Â This device was designed for individuals with spinal cord injuries (quadriplegia), multiple sclerosis (MS), ALS, muscular dystrophy, cerebral palsy, brain injury, stroke and anyone else who, due to disease or disability, finds it difficult to use a touch-screen.
The BridgingApps team had the pleasure of trialing the Tecla Shield in our Houston lab. Â We found this product easy to use with some training from the helpful team at Komodo. Â The Tecla easily connected with our iPad and stayed connected without interruption.
Here is what some of the Tecla Shield users are saying:
"Love, Love, Love the Tecla shield! It is incredibly exciting for me to be able to read for the first time in thirteen years. I am downloading every book I can find to the iPad! Not only am I reading, but this set-up also has allowed me a way of communicating through Skype as a backup to my telephone. Another bonus – I get to listen to music on the iPad. Thanks so much!"  
-Susan Dickinson
"My TeclaShield moment was the instant that I first turned it on which, for me, meant going from a state of dependence to independence. This may sound like hyperbole but in my case it's true. You see, I'm a C4 quadriplegic and a businessman that counts on technology to survive. To elaborate a bit more on that moment: before my TeclaShield, I could not use my iPhone to have Siri manage many tasks with my voice and now I can look up contacts, check emails, schedule appointments on my calendar, and send and receive texts. I remember the excitement of taking a work break outside that day, then thinking about an appointment I wanted to set and how easily it got done just by requesting it from Siri. So, the TeclaShield for me is nothing short of amazing. All other competitors only allow 2 buttons for phone functions with direct access. The multi-function capabilities that TeclaShield enables gives me new options for doing business and now makes my operation run more efficiently. I can't thank you enough for building such great technology. For me, it has been truly transformational." Â  Â  Â  Â Â 
-Todd Stabelfeldt, CEO & Founder, C4 Database Management
"The Tecla Shield DOS has indeed changed my life . I was looking for some time for a tool to control an ipad with a single button via scanning. Â I had already seen the first version of the Tecla Shield. This was working with "Voice Over " . Nice, but it could not really convince me. Â And when Apple came out with iOS 7 and "Switch Control" and Komodo with the Tecla Shield DOS, I knew immediately : THIS IS IT . I would finally be able to drive fully an ipad. And this turns out to be correct . Â Thanks to the Tecla Shield DOS I can read newspapers , magazines and books on the iPad . If I do not have a particular book or magazine, I can easily buy it from the iTunes Store. Before the Tecla Shield, this was not possible for me. Â In short : With the Tecla Shield DOS, a new world opened up for me."
-Marc Duchi
This easy to use device is packed with great features:
Works with iPad

®

, iPod Touch

®

 (3rd and 4th generations), iPhone

®

 (5, 5C, 5S, 4, 4S and 3GS) orAndroid

â"¢

 (best on Samsung Galaxy

â"¢

 and Google Nexus

â"¢

 devices running Android

â"¢

 Gingerbread and above).
4-way joystick navigation and iBooks iOS

®

 modes.
Fully customizable Android

â"¢

 experience using theTecla App for Android

â"¢

.
Integrated speed and mode configuration buttons.
Use up to six independent switch inputs or your wheelchair driving controls.
Connects via Bluetooth without PIN pairing code.
Rock-solid connection: always connects automatically to last paired device
18 meter range.
High-capacity, integrated battery for over 4 days of continuous use!
USD $349.00
This item can be purchased from http://gettecla.com