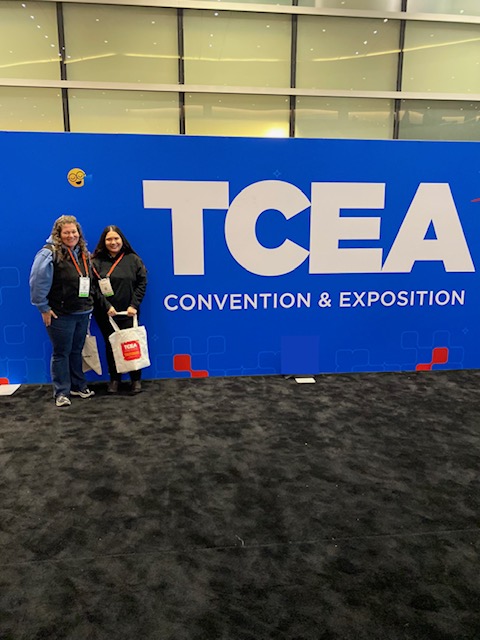 For many students with disabilities, thriving in school depends on a good Individualized Education Program (IEP) and the right assistive technology. Recently, BridgingApps' Tara Rocha and Alejandra "Ale" Gonzalez attended the Texas Computer Education Association's convention in San Antonio, where they presented two workshops: Digital Storytelling; and Text-to-Speech Options for Reading.
The convention featured over 700 workshop sessions in all, plus over 450 exhibitors. Following are Ale and Tara's top picks.
#1 Favorite
Switched on Learning and adaptive toy tech from Irving ISD, designed to help children of all ability levels learn through play. Switched on Learning is eager to expand its reach, and is recruiting new trainees. Contact James Tiggeman, Assistant Director of the Irving ISD Digital Learning Department, for further information.
Favorite Exhibitors
ReadSpeaker: Text-to-speech technology that "talks" and reads aloud in over 35 languages. ReadSpeaker is included with many online textbooks and Learning Management Systems, and is purchasable as a browser extension.
Novel Effect: App for enhancing read-aloud sessions with sound effects and interactive music; responds to the human reader's voice. The database is programmed for over 1,000 children's books (and growing), including such classics as Dr. Seuss, Goodnight Moon, and The Little Engine That Could. You probably already own some books that can be used with the app. (Novel Effect stickers are available for the front covers of read-aloud books. Book downloads can be used alone or with a companion hard copy. A free version of the app offers 5 reads per month; teachers can purchase a licensed version at $39/year.)
Favorite Sessions

1. Gadgets with Leslie Fisher
In this power-packed session, Leslie shared a ton of resources. Some of our favorites:
Alexa Guard: Switches lights on and off, barks like a dog, and otherwise gives the impression that a home is occupied. Includes built-in noise detection to warn of glass breaking.
Alexa Routines and Sound Detection: Can be customized and shared. Sound Detection reacts to noises it "hears" (for example, it can play ocean sounds when your dog barks, to help calm him).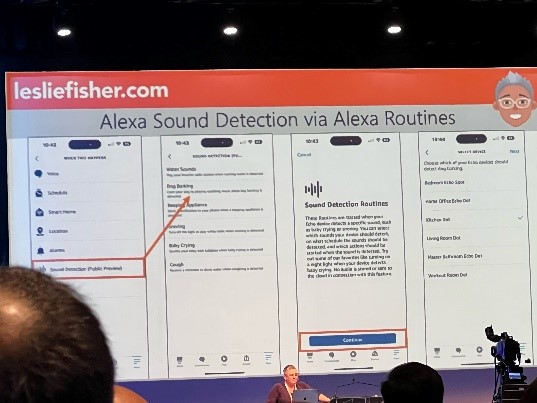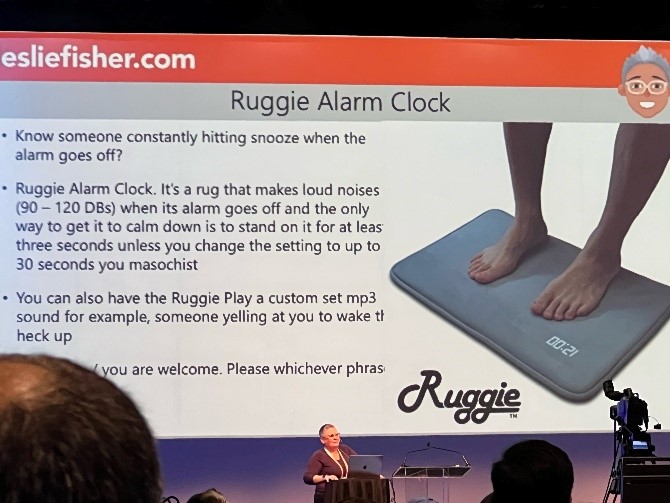 Sensibo Sky for long-distance control of home temperatures. Connects with all remote-controlled air conditioner units as well as Google, Alexa, and Siri.
2. Tech Tool Smackdown
Featured tools included:
(See also "Tech Tool Smackdown 2023.")
Presentation on challenge-based learning, which "mirrors the 21st-century workplace" and takes a three-part approach:
Assign a problem
Identify what we need to know
Learn and apply to solve the problem
We loved the Genially tool, a free platform to design and share customized projects (videos, infographics, interactive images, quizzes, etc.) that fit the focus of any classroom.
Favorite Contacts
Big Thought, Dallas-based nonprofit dedicated to "Empowering Youth [and] Closing the Opportunity Gap" in marginalized communities. Had a great time exchanging ideas and referrals!
Think Write Technologies, manufacturer of "reimagined" headphones in multiple designs. They provided a sample set for the BridgingApps AT lab.
Watch the BridgingApps blog and App Search Tool for future postings on individual items.