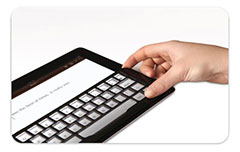 Previously known as the iKeyboard, the updated TacType Keyboard is an easily attachable, adhesive keyboard for the iPad's onscreen keyboard. Now you can touch-type on your iPad keyboard, typing faster and more accurately. The TacType transforms your iPad's virtual keyboard into a real keyboard.
The TacType Keyboard piggybacks on your iPad keyboard so that wherever your iPad goes, your TacType tags along. The sticky backing and slim and lightweight design allows for use in a variety of positions and can fit with some iPad cases, including Apple's Smart Cover. The keyboard leaves no residue and requires no charging.
The TacType Keyboard comes in black or white.
USD $35.00
For more information, visit the TacType website or checkout this YouTube video.