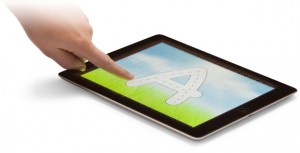 TacScreen is a clear, film-like cover that adds the sense of touch to flat touch-screen devices, allowing users to actually feel the letters, numbers and sight words.
This product was developed by the parent of a child diagnosed with dyslexia, auditory processing disorder, dysgraphia and ADHD — a parent who watched a brilliant, active child that excelled in problem solving struggle with the fundamentals of early education like learning the alphabet, correlating sounds to letters, retaining sight words, phonetics and spelling.
TacScreen is particularly appropriate for learners diagnosed with dyslexia, dysgraphia, ADHD, and autism as well as for other groups of tactile learners.
[youtube id="rbN3tWVDCr4″]
iPad Air Tactile Screen Cover (9.4 X 6.6)1 Screen USD $19.95
The TacScreen can be purchased directly from the developer http://tacscreen.com/our-products/