Reading Time: 2 minutes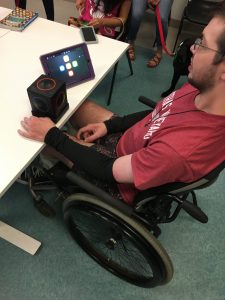 Have you ever heard of Skoog? Skoog is a musical accessory for iPad that allows users to tap, twist, or squeeze it to create music. Thanks to the BridgingApps team, participants in teen night at Easter Seals Greater Houston experienced music in a different way with the Skoog.
The invitation for that particular teen night said,
"This evening will be music themed. Please bring your instrument and plan to collaborate/share."
This sparked conversation among the BridgingApps team… How can we introduce technology into this teen night to assist those who may not be able to play a traditional instrument?
One of our team members purchased a Skoog several years ago and brought it into the lab for us to try. After charging it up and connecting it to an iPad, we were ready to have fun!
The participants at teen night were amazed at the fun sounds made by Skoog by simply hitting, bumping, or squeezing it. We also used it to play a following directions game and to play along to some of their favorite songs using Spotify. The Skoog was a big hit! Check out the Skoog website to learn more about it or get your own. We invite you to come to our Open House event on Thursday, September 26th from 5:30 pm- 7:30 pm to try Skoog out for yourself! More details about this event coming soon.