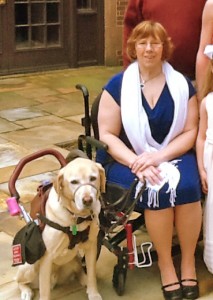 My name is Sharon and my life dramatically changed on a fall night in 2004. At the time, I was working as an obedience instructor and veterinarian technician. I owned my own home and was a typical independent woman in her thirties. On the way to a client's house, a speeding car came over the crest of a hill and hit me as I was making a left turn. I acquired a traumatic brain injury (TBI) that impacted my life significantly. I had both physical and cognitive difficulties, but worked hard to improve them. After several months in therapy I decided to go out with a friend to celebrate my successes. On the way to our celebration, a group of teenagers ran a stop sign. They hit the passenger side, where I was seated. This accident caused me to sustain another traumatic brain injury. This TBI was much more severe due to the cumulative effect of having two injuries so close together. This accident impacted my life in an even more profound way. I had to use a wheelchair for mobility, experienced many more cognitive difficulties, had to rely on numerous external supports, and required assistance 24 hours a day. You would think that I had used up all my bad luck at that point, but more was in store for me. While recovering at an inpatient rehabilitation facility I started to use a wheelchair adapted exercise bike. I was exercising when my wheelchair tipped over and slammed my head into the parallel bars behind me before I hit the concrete floor below. This incident delayed my progress and set me back in my recovery.
When I finally returned home, I could not function without an assistant being with me 24 hours a day. This was a difficult life change for me. I missed being able to have alone time. I felt a deep desire to do as much as I could to gain more independence. As part of this quest for independence I continued to attend therapy. However, I felt like I wanted to be less reliant on my assistants. I thought back to my days as a dog trainer and the idea of getting a service animal dawned on me. Little did I know how much my service animal, Chuckwagon (CW), would change my life.
Not only does CW help me with physical tasks (such as picking items off the floor, supporting me during transfers, and carrying items for me) he has helped me with my cognitive challenges and diminished feelings of social isolation. Some people might ask how I could possibly feel isolated when I had a caregiver with me 24 hours a day. However, there is a difference between someone taking care of you and giving you everything you need, versus the relationship between two equals who give and take with balance. With CW, I started putting effort into considering his needs and how to structure his training and care. This helped me gain confidence and made me work to put my thoughts into words. He helped me learn how to schedule my time. He helped me become more aware of the days of the week. I had to be more conscious of my movements. Plus, he was a great icebreaker when I met new people.
Fast forward to 2012. I found that I was reliant on a huge binder that functioned as a planner. It was enormous and weighed about 13 pounds! It acted as my external brain. I kept records of all my contacts, notes, schedules, plans, reminders, and important forms. I found that picking it up all the time was actually causing pain in my rotator cuff. A new solution needed to be considered.
A friend of mine had attended an assistive technology conference and suggested that an iPad might work well for me. At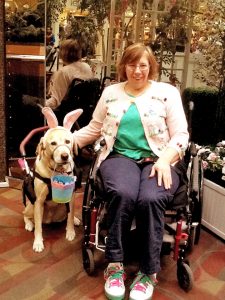 first, those closest to me were skeptical. Even I had my doubts. I really didn't need an expensive gaming machine. However, I was starting to think that an iPad could really help me with some of my organizational tasks. I wasn't sure if it was actually going to work, but I was determined to give it a try. I received an iPad for Christmas and got to work transferring my "brain" onto the device.
Since then, I have embraced this technology with both arms. It has been such an amazing thing for me. It's incredible how much it can change your life and assist you. The iPad can help you gain independence, but it also presents an image to others that you are competent, creative, and on the cutting edge. In the fall of 2012, I started working with Sarah Pickford, an assistive technology specialist from Brain Injury Services. She is just an amazing, awesome, and incredible person! The first thing we did was find a calendar app (Calendars+) that was both useable for me and also capable of handling my multiple calendars. We refined a structure for all of the various things I needed to track and schedule. We used a combination of colors, categories, and different calendars to design something that I could actually use. One feature I use frequently in the Calendars+ app is the tasks. Keeping a to-do list helps compensate for my short-term memory challenges.
I also began using the Reminders app and setting alarms to cue myself. I learned to take photos and videos on the iPad. I even learned how to create slideshows and presentations on the iPad using Slideshow HD. When I'm at outreach events I use the app LoopyLoop to play my presentations continuously. I frequently give speeches out in the community, so Sarah suggested a teleprompter app. I've found PrompterPro to be useful in helping me keep my place in my speech. This particular app allows me to customize the font size/color and background color to meet my needs. Even better, the app was free at the time! I know other people who have spent much more money on less effective apps!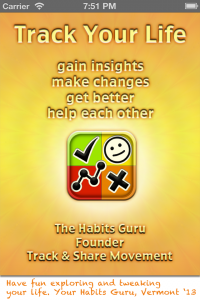 I use an app called TrackNShare to record all of my health symptoms. I also started tracking CW's medical problems too! Out of all the data tracking apps I've tried, this one is the easiest to use (while still allowing for detailed records) and the most flexible. It is well designed and has attractive graphics. The app creates graphs that make it easier for me to communicate with my doctor accurately.
A bonus of the iPad is that it has helped me with relaxation. This is especially important to me because I sometimes have trouble sleeping. Sarah recommended some sensory-based apps to help me calm myself. The ones I enjoy the most are called Fluid, Fluidity, and Monolith Loop.
One of greatest challenges I have with technology is remembering passwords and keeping my private information safe and secure. Since I have so many assistants, I would frequently share sensitive information with people who would then quit and exit my life. I realized that this wasn't a safe practice and talked to Sarah about it. She helped me set up a LastPass account. LastPass is incredible! It is a password manager that locks away all my passwords into a vault that can only be accessed via a master password. It can be used on both the computer and on my iPad. There are so many reasons why I love this system  and I highly recommend it!
Also, even though it's not an iPad app, I wanted to share a software program Sarah and I have used frequently called Screencast-O-matic. It is a screen recording program that we have used to create customized how-to videos. Before we came up with the idea of video tutorials, I relied on my assistants to hand write step-by-step instructions on what button to push on what screen and so on. The instructions were hard to follow and occasionally did not match up with what I was seeing. Sometimes assistants would skip writing down steps because they seemed so obvious. If a mistake was made it was nearly impossible to find my place again. Now, Sarah will record herself performing computer operations I am interested in learning. She goes through the steps while narrating what to do. We save the videos so I can practice on my own at any time. For anybody who has difficulty with sequencing or remembering operating procedures this system is a life saver! It works so well because the tutorial is recorded on your actual computer so you can learn the steps in their actual context. It eliminates the need to interpret how to apply instructions from a general video tutorial (such as those on YouTube) to your own machine. You can also customize the content so you have exactly the information that you need. These videos can be recorded in real time and then saved for future reference. I also want to make it clear that the how-to videos we create vary greatly in complexity. It can be as simple as how to cut and paste in a word document or as complex as changing album data in iTunes. The benefit of these videos being custom is that they can reflect anything you want!