To the people like me 🙂
By: Schuyler Noelle Rummel-Hudson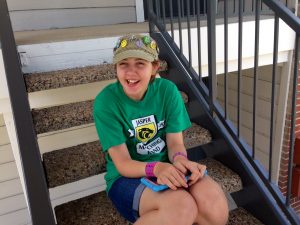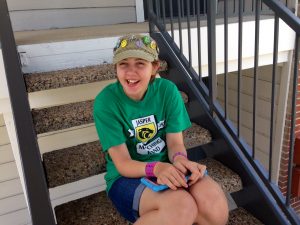 Hello, my name is Schuyler Noelle Rummel-Hudson and I am 14 years old teenager and I live in Plano,TX. In my school, I like to do art and band.
I have a little monster called Polymicrogyria in my head. I called my little monster Polly because it is a funny name. My monster makes hard to talk and to understand things, sometimes. And it makes me have seizures sometimes too and it feel like a earthquake in my head.
I like to use my iPad Mini because it help me with talking and I can looks things up like the the right stuff for school. It makes me as other people. When I used my old speech device, it looks like something wrong with me.
My first device was a Vantage but I called it the Big Box of Words. My second device was a pink Vantage Lite but I called it Pinkessa. Now I am using an iPad Mini. Â I like the Mini than my OLD devices because it is smaller and sounds better and I can sent messages to my friends and my family too. It looks I'm like other people.
In the future, I want to help people like me. I can teach them how to use a iPad to talk and write to other each. I want to help my father with his new book and I want to write a book myself. I want to live in my own, if I get lonely and I can find my mom and dad. I want to drive a car too. I want to get married and have two kids.
I am going to use my iPad Mini to help me do the things I want in the future when I grow up.
Your truly,
Schuyler Noelle Rummel Hudson 😉
We at BridgingApps appreciate Schuyler agreeing to share her story with us and with our readers in her own words. We invite you to share your story of how technology has positively impacted your life, as we all learn and can be uplifted by the experiences of others. Click here to share your story. Â http://bridgingapps.org/contact-us/
If you would like to learn more about Schuyler's journey with Assistive Technology, please visit http://www.schuylersmonsterblog.com/.