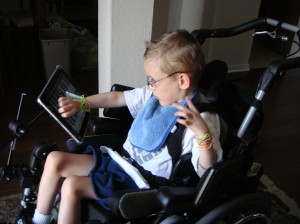 Do you need to mount a mobile device, such as an iPad to a wheelchair, table, or bedside?  RJ Cooper has created solutions for tablets, e-readers/devices including iPad, Nook, Xoom,  and Kindle in virtually any case. His system consists of three parts: the Super-Clamp, Mounting arm (several kinds) and a tablet holder.
Each arm includes a Super-Clamp, which allows the user to connect the arm securely to wheelchairs, bedrails, tables, etc. Arms range from the 6" Short Arm, the adjustable 3-13" Mini-Arm, the 24" Articulating Arm, and triple-jointed Magic Arm.  Nine year old Jaden, pictured left, is using the Articulating Arm with his iPad.
RJ Cooper makes tablet holders for the iPad (first, second, and third generations) and an adjustable tablet holder that can hold other tablets, readers and devices.  Devices can easily be removed from the tablet holder, or detached from the mounting arm thanks to the Quick Connect lever.
Visit RJ Cooper website for more information.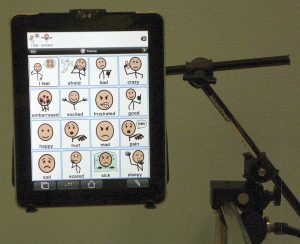 Features:
Super-Clamp
Mounting Arm
Tablet Holder
Easy mounting system
 
For the Short Arm (6" reach) USD $119.00
For the Mini-Arm (3-13" reach) USD $159.00
For the Articulating Arm (3-24" reach) USD $189.00
For the Magic Arm (24" reach; 6" extension optional) USD $269.00