Written By: Mark and Laurel Carleton (Richard's Parents)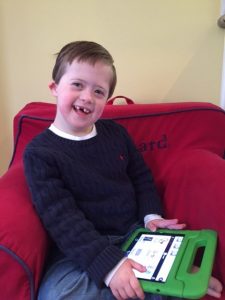 Meet Richard, an energetic and determined little seven-year-old boy whose favorite person in the world is his eleven-year-old sister Camille. Every morning, without fail, Richard bolts across the upstairs landing at our home to crawl into Camille's bed and wake her up with slobbery kisses and tight, tight hugs. As his parents, we would say that any day spent with "the Big Boy" is one filled with affection, enthusiasm, and discovery. He has changed the lives and the character of every member of our family and continues to shape the ways they interact with the world each and every day.
Richard deals with significant cognitive delays related to Down syndrome, autism spectrum disorder, and epilepsy. In addition, he battles physical limitations related to celiac disease, asthma, and a thyroid deficiency. Through it all, though, Richard maintains an incredibly enthusiastic approach to life and transfers that enthusiasm to everyone with whom he comes into contact.
Richard has been using an iPad to communicate wants and needs for about three years. He started with a full sized iPad and now uses an iPad Mini. Richard's ability to communicate using his iPad has changed his life immeasurably. No longer are his day-to-day needs trapped inside his own head. He can actively tell family members or caregivers what he would like to do, what he wants to eat, and even with whom he would like to do these activities. Most of the time, the person he asks for is his Mommy. The sense of autonomy that the iPad affords Richard is dramatic. His frustration level when it comes to articulating his thoughts has diminished significantly, and the resulting joy that is at the core of his personality takes center stage with more regularity.
We could not be the parents we want to be for Richard without his iPad and without the autonomy and independence it affords him. We no longer have to wonder what our little boy wants or needs. He is able to tell us, and he does so emphatically. As he has become more adept at using the iPad, Richard's sense of humor (which was hidden for his first five years) has also begun to emerge. Turns out, he is a mischievous little rascal, which only endears him to us more.
Once Richard showed an inclination toward using the iPad, we decided to change speech therapists and began to see Betsy Furler at BA exclusively. She has been an invaluable resource to us and to Richard as she continually challenges him (and us) to lean into the device and its possibilities. Over the course of the time that we have worked with Betsy and BA, Richard's acuity with the iPad has increased tenfold, and his abilities to express himself in more and more complex ways have allowed his personality to emerge and his quality of life to improve.