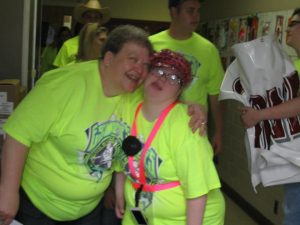 Jasmine was born with Down Syndrome and has always had limited speech. At age 13 she was diagnosed with Moyamoya Syndrome which basically means she had a hemorrhagic stroke. At this time she lost all of her speech and most of her sign (also limited). She got a job at age 17 and Vocational Rehab bought her an iPad to use as a communication device but the iPad also had games on it and it was big and she didn't want to carry it.
I was on facebook one day and found a contest to win a gab-n-go harness
and I won! Â They even sent her a pink one (her favorite color). Â I quickly bought her an iPod touch and I took everything off that I could and hid the rest. Â I put her Tap-2-Talk app on the iPod touch and put it on her Gab-N-Go. She loves it! She loves showing others how it works and now she can even order a meal in a restaurant or tell me she needs to use the restroom. Â I no longer have to hunt for it or wait for the battery to charge because we have played with the iPad all day. Â At the end of the day she takes it off and lays it by the charger so I can plug it in. It has given Jasmine (Or Jazzi as we call her) so much independence.
Jazzi will turn 20 in February but (in my opinion) has the mind of about a 6 year old. Â She loves people and now being able to communicate with others … well, that's such a blessing. This pic is Jasmine and I at the Special Olympics Summer Games May 2013 in Stillwater, OK!
Gab-N-Go  is a harness that puts the mobile device and communication app in front of the persons body making their communication easy, accessible, and timely.   It also includes a wireless Bluetooth speaker that ensures the person using the device will be heard.  To purchase or learn more about a Gab-N-Go Harness visit http://www.safensoundmobile.com
Article submitted by Tami (Jasmine's mom)