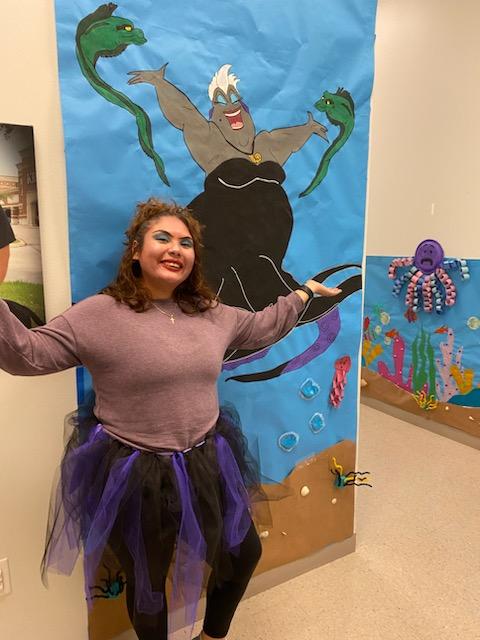 The annual Pumpkin Patch at Easter Seals Greater Houston (ESGH) was held Tuesday afternoon, October 17. Most every department at Loop Central headquarters dressed up its office area and team members for the occasion. Our BridgingApps area featured an "Under the Sea"/Little Mermaid theme (partly assembled near a real beach, during last month's Galveston retreat).
(Note: Individually decorated areas are "doors" in Pumpkin Patch language, though many include multiple offices/cubicles/hallways.)
Amy Fuchs, BridgingApps Program Manager: The part I love about our team's door decorations is the interactivity. We have experience with a variety of disabilities, and apply that to creating designs. The results are not only visually appealing, but include tactile elements so clients of all ages can interact with our artwork. This year, we incorporated slime-filled "water bubble" pouches, pipe-cleaner sea anemones, sequined fish fins, beads for coral, sandpaper for the ocean floor, and real seashells. Seeing clients enjoying this experience is so rewarding. I can't wait to see what we imagine for next year's design!
Alejandra Gonzalez, BridgingApps Digital Navigator: Our clients really enjoyed the sensory part of our wall decorations. My favorite part was seeing them all in costume and how excited they were.
ESGH staff picks for the best doors and costumes of 2023:
Grand Prize, Door: Super Mario Brothers Extravaganza by Anabelle Cortes, ESGH Early Intervention Specialist (and renowned hallway decorator)
Second Prize, Door: Super Mario Brothers by Children's Therapy Clinic
First Prize, Costume: Team Barbie & Ken in the Development/Admin department
Second Prize, Costume: Team Oompa Loompa in ESGH Veterans services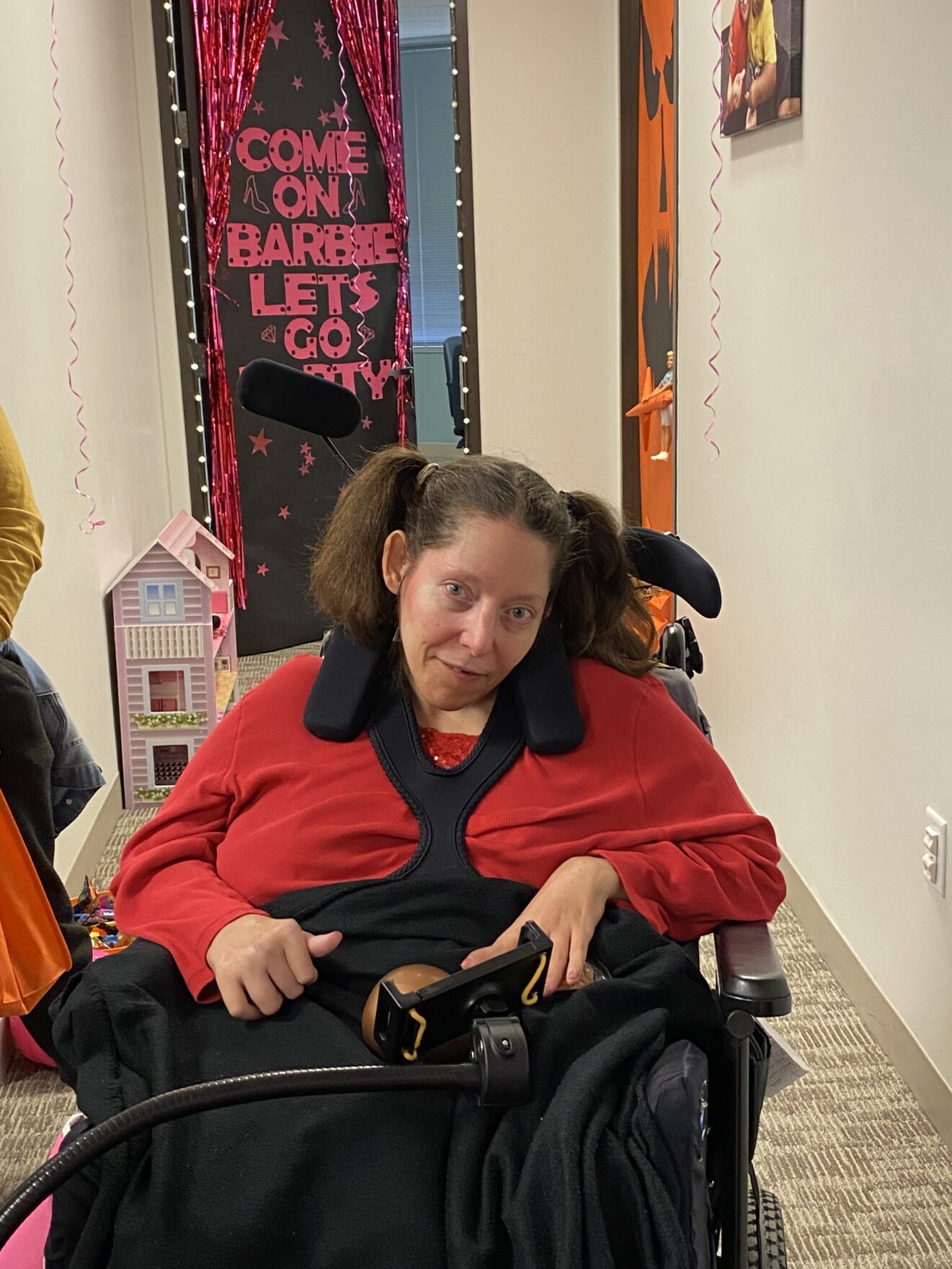 Alejandra Gonzalez: Next year we're hoping to team up with the other downstairs programs [ESGH has first- and second-floor offices] to create a bigger and better sensory world. I'm really excited to see what we come up with.
What's Pumpkin Patch All About?
Many families are unable to participate in traditional Halloween celebrations because of disability-related issues:
Anxiety disorder
Sensory overload or seizures triggered by flashing lights, sudden movement, and other stimulations
Difficulty navigating in the dark
Wandering ("elopement") tendencies
Difficulties communicating personal needs, including what/whom one is looking for
Pumpkin Patch is designed to give these families an event they can enjoy safely, without pressure or judgment. Attendees dress up, participate in supervised crafts and games, and receive piles of treats (including options for anyone who won't or can't eat traditional candy offerings).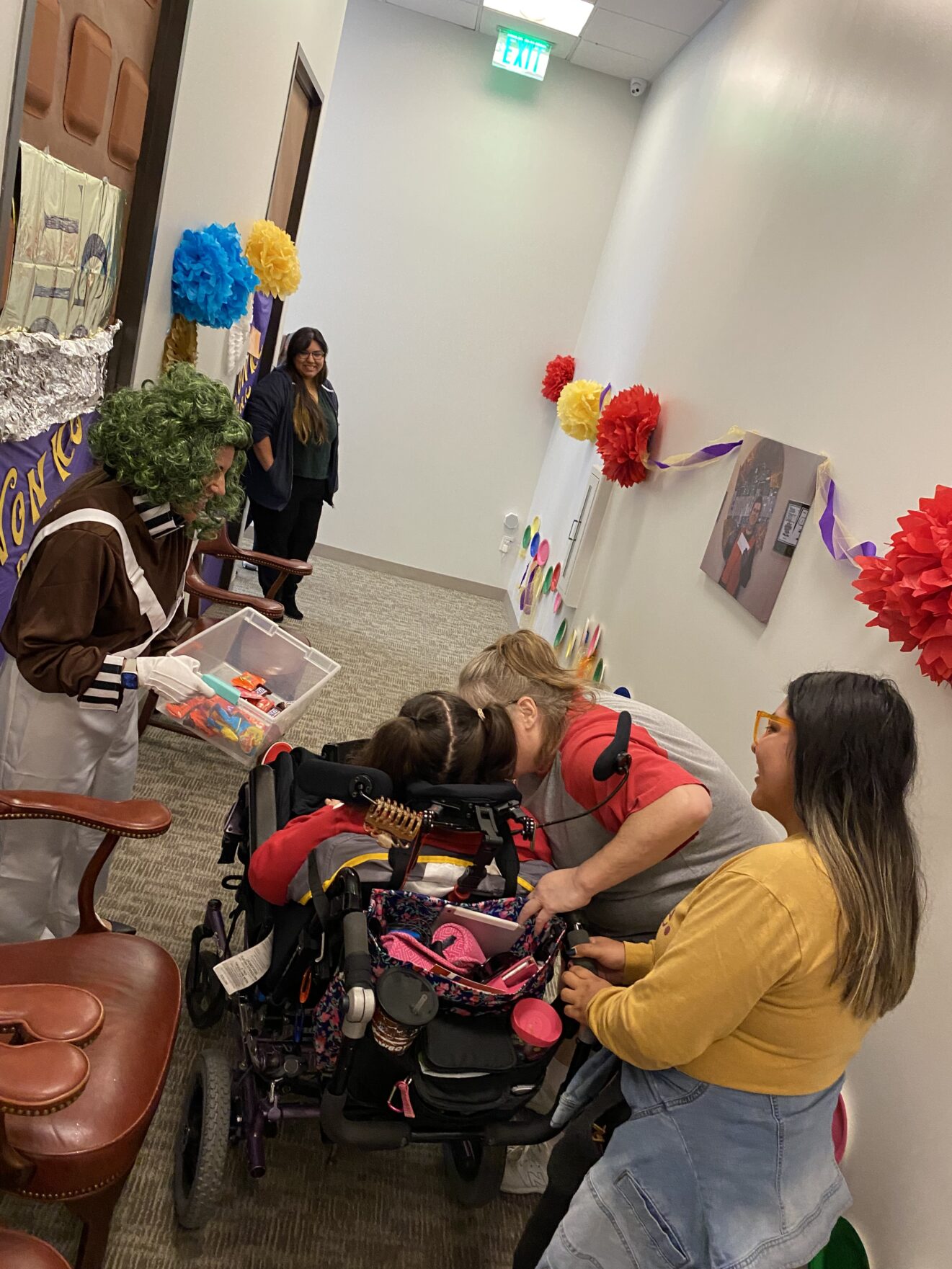 Tara Rocha, BridgingApps Digital Learning Specialist: This year was an awesome experience. I had scheduled a new client, Elizabeth, right before Pumpkin Patch started, and was able to attend with her and her sister Renae. We also met with [Speech Language Pathologist] Daryn Ofczarzak, and are already looking forward to next year's Pumpkin Patch: we expect that by then, Lysbeth will have a new speech device she can use to say, "Trick or Treat!"
Amy Fuchs: My favorite part is seeing the joy on the faces of the clients, and also the staff. The employees pull out all the stops with their themed costumes and door decorations, showing not only a spirit of friendly competition, but how much effort they are willing to put into seeing our clients have fun. I witness longtime adult clients, active at ESGH for longer than I've worked here, dressed up and having as much (maybe more?) fun as the children.
See also: