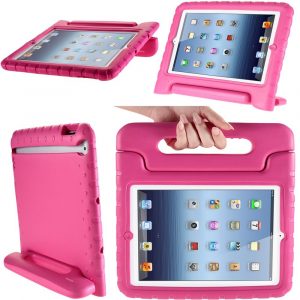 This is a case for the iPad 2, 3, 4, 5, and mini. Â The product features:
Versatile and exciting, free-standing and kid-friendly case for iPad
Designed specifically for Apple iPad 2, the New iPad 3, iPad 4 with Retina Display
Constructed from impact-resistant polycarbonate and double-enforced with a shock absorbing silicone inner-sleeve. Corners feature double-thick silicone for outstanding protection against drops and other impacts.
Super Light Weight and durable Hazard Free Safe Material Perfect for Boys and Girls Alike
Raised screen bezel Egdes for Extra Protection When Fall
Cut out and openpings for Buttons Controls and Cameras
Fun Driven Covertible Stand Case Can Change in To A Handle for Easy Handling and Carrying Around (School/Home)
Recommended to purchase with i-Blason Bubble Free Screen Protectors
i-Blason (TM) logo bearing Armorbox Kido Seriese Super Sturdy Light Weight Protection Case for Kids
One year warranty from i-Blason
USD $19.95
This item can be purchased from Amazon.