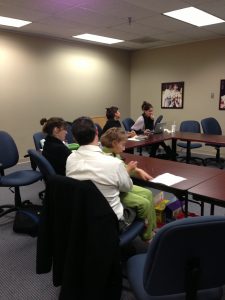 At our December meeting we had a small, but dynamic group who shared information on apps we have been using in the past few weeks. Teacher Lindsey Williams demonstrated an app called Touch and Write by Fizzbrain. The Touch and Write app comes with 16 different writing textures for the student to choose from which makes it exciting each time this app is used. Choose from shaving cream, jelly, finger paint, and others. It makes learning letters and practicing handwriting fun and interesting. The sound effects from the various textures are fun and motivating for students and have been effective in keeping students' interest.
Lindsey also demonstrated how she has been using a new type of stylus called the App Crayon with her students. The triangular shape of the stylus encourages a proper tripod grasp, and several kids with special needs have responded well to the feel and design of this stylus. It is similar in design to the "Anti-Roll Triangular Crayons" made by Crayola. They were initially designed so that they wouldn't roll off of writing surfaces, such as desks and tables.
http://bridgingapps.org/2012/12/appcrayon-a-stylus-for-kids/
Our group also discussed the free app Nearpod, which is a platform enableing teachers to use their iPads to manage content on students' iPads, iPhones or iPods. It combines presentation, collaboration, and real-time assessment tools into one integrated solution.
With the upcoming holidays, we also looked at Dr. Seuss Camera – The Grinch Edition and Rudolph Camera, both by Oceanhouse Media. These apps allow you to take a photo of yourself and insert yourself into photos with the various characters. You can personalize cards with merry stamps, borders and jolly text. Both apps have the ability to send e-cards friends & family by email or saved to the Photo Library.
Speech therapist, Betsy Furler shared her favorite holiday apps. You can access Betsy's list by clicking on this link: http://bridgingapps.org/list/?id=45068. If you would like to share YOUR holiday apps, consider creating a list using our custom-built app tool Insignio: http://bridgingapps.org/getting-started-with-insignio/.